Spend less on hotels,
travel more.
What would you splurge on
if you saved hundreds of $$$ when you travel?
As seen on the interwebs
How to get the best hotel rates
Download our Chrome extension and login. Then search your favorite booking site (Booking.com, Hotels.com, Google Hotels, Expedia). When you come across a hotel and dates, we'll be there to show you the wholesale rate.
"For my birthday weekend I found an ocean view room for $525/night on Hotels.com, but I scored it for $353 with you guys! I am definitely going to be spreading the word. You have a loyal customer for life."
Same hotel, same room, way cheaper
It's FREE to register and see the rates, and only $95/yr when you want to book. Find a steal that covers the annual fee and book it. Go ahead. Give it a try. There's nothing to lose.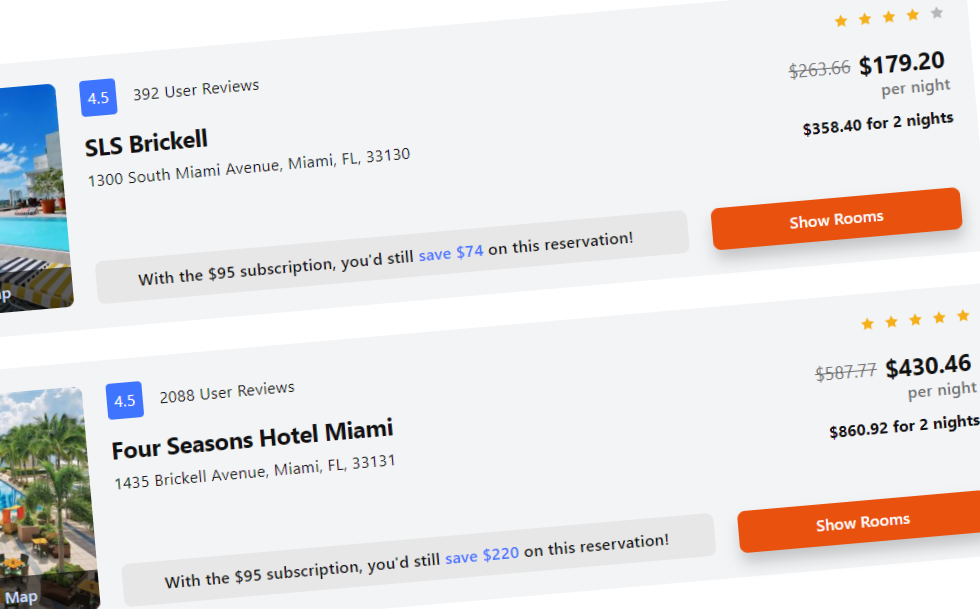 Need a weekend getaway close to home?
If you just need a weekend away, but still within driving distance, try our last minute "staycations" alerts. When there's a 4 or 5-star hotel nearby at 40% off or more during the coming weekend, we'll send you a last minute email letting you know about it.
Crazy awesome included
Built by travelers, for travelers. Here's some stuff you'll just have to see to believe.
Weekend steal alerts
Get notified when a 4 or 5 star hotel is more than 40% off so you can get away.
Join thousands of others
Travelers worldwide use Room Steals to ensure they're getting the best deal. You can too.
No commission, no margin
Unlike other hotel sites, we make $0 on reservations. That's why we can show you the best rates.
600k hotels worldwide
Hotels almost everywhere have wholesale prices. From India to Iceland. We 🤍 steals everywhere.
Best prices when it matters
When you're ready to book a hotel, our hotel Chrome extension will show you the wholesale price.
Refundable rates
Sometimes life changes our travel plans. Don't worry. Just pick a refundable rate or add insurance.
Ask us anything
We love questions. Talk with us any time. We won't run and hide. The more the merrier.
Support that cares
Problems? Need help with something? Talk with us. We want your experience to be top notch.